Elementary parents, please remember to turn in your child's permission slip for skating. The forms are to be given to your child's teacher along with the $5.00 for each student by Wednesday, November 2nd. If you have lost your form please don't hesitate to reach out to Mrs. Belshaw.
Ms. Crim's Science class created a "crime scene" for the whole school to view. Nice work by the students with the details of this crime scene right before Halloween! We have some prospective Crime Scene Investigators in the future!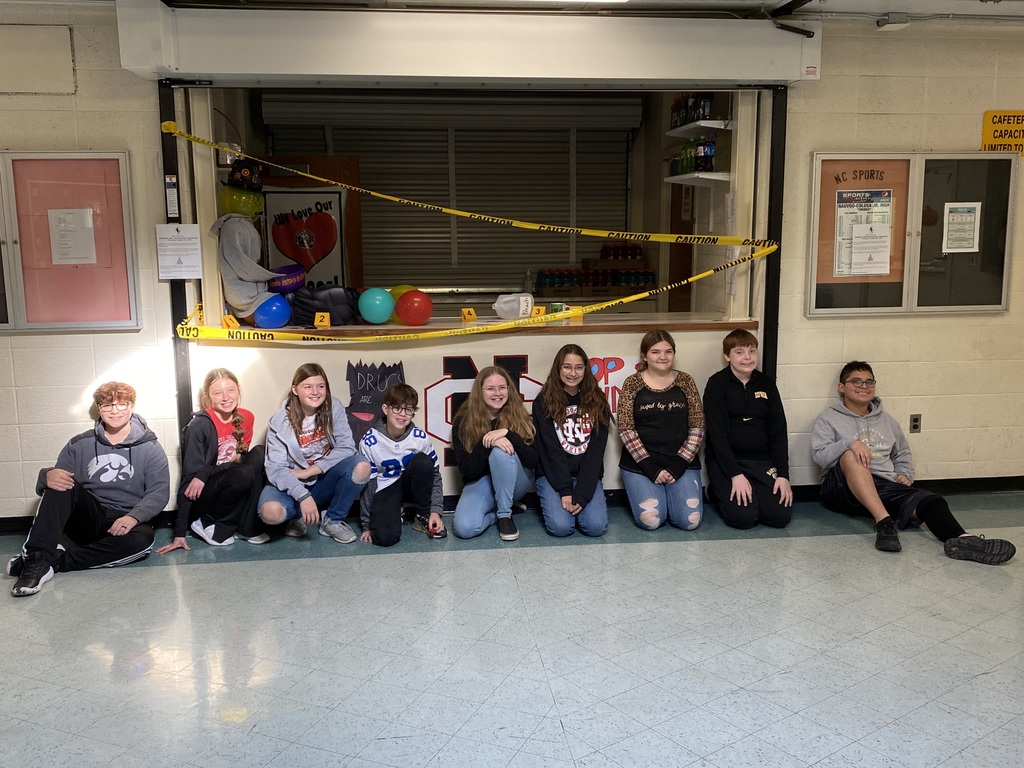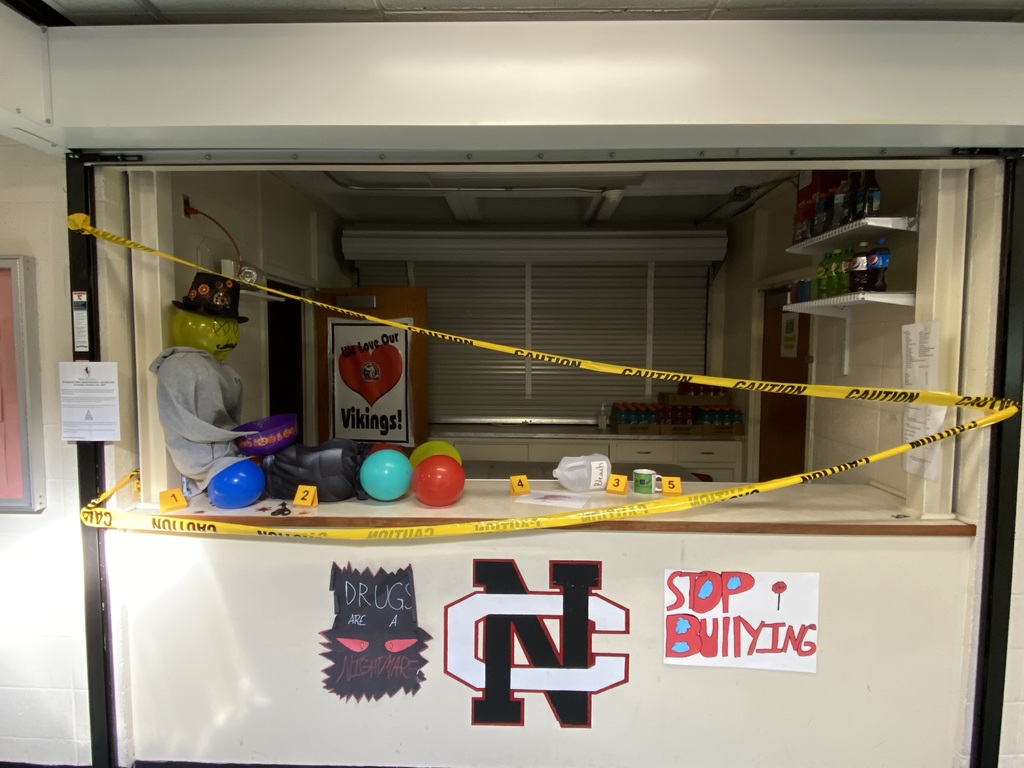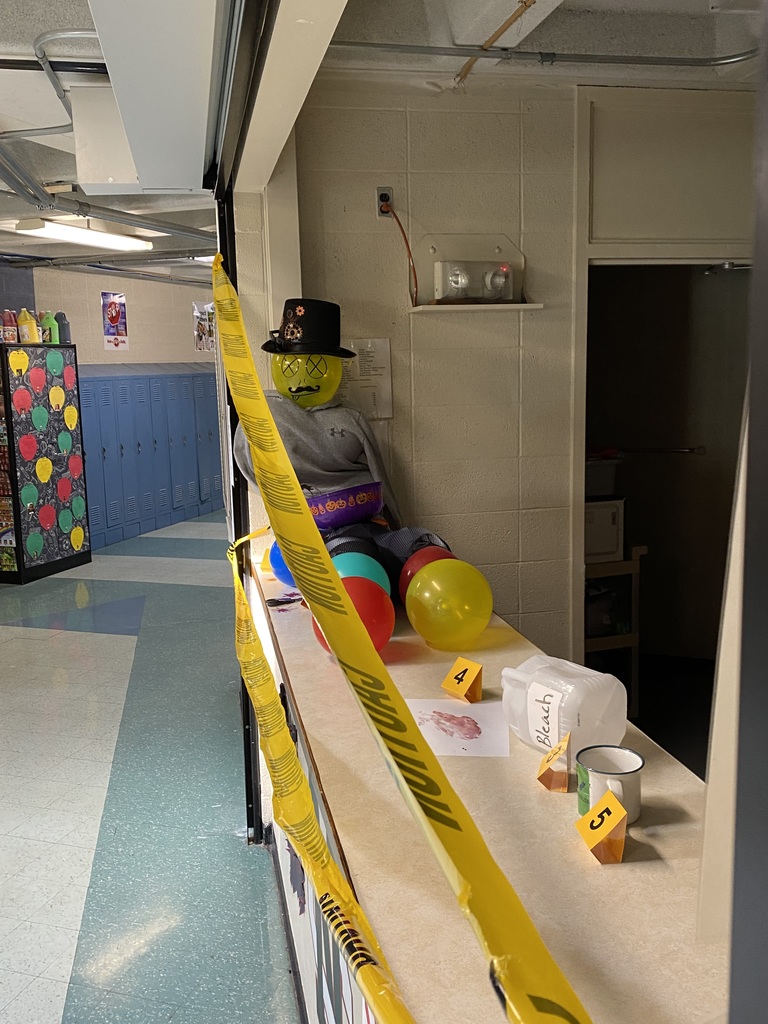 Here are more pics of students wearing red and student chalk drawings for Red Ribbon Week. Enjoy the pics! Thanks for your support for our kids in/out of NCES.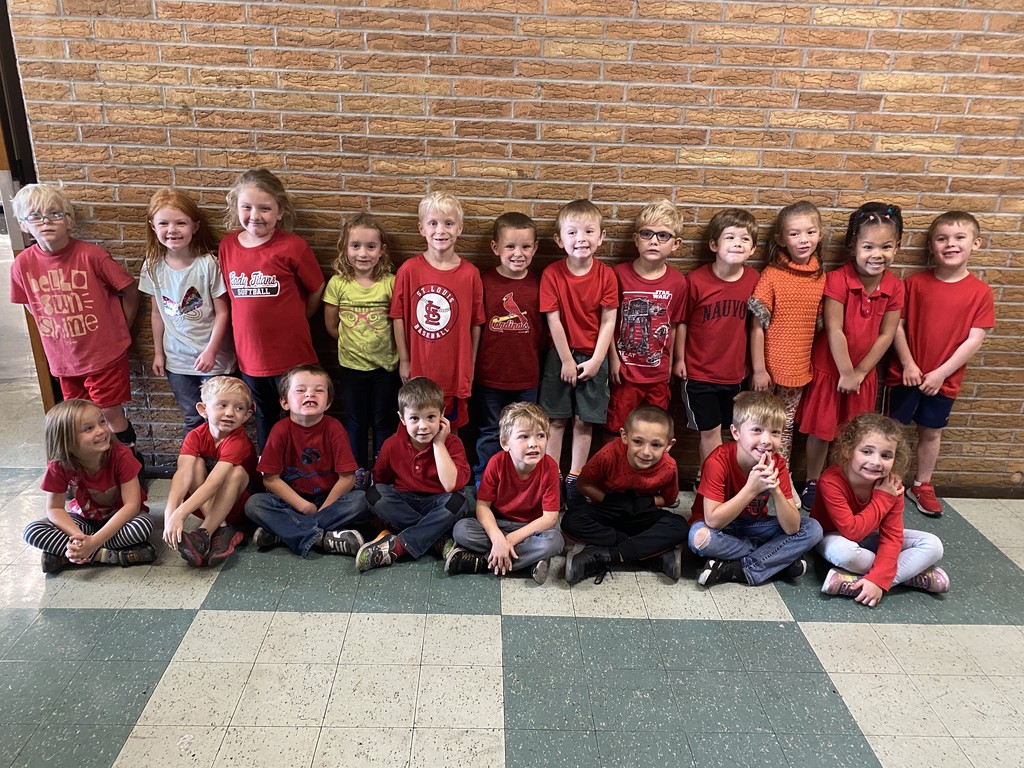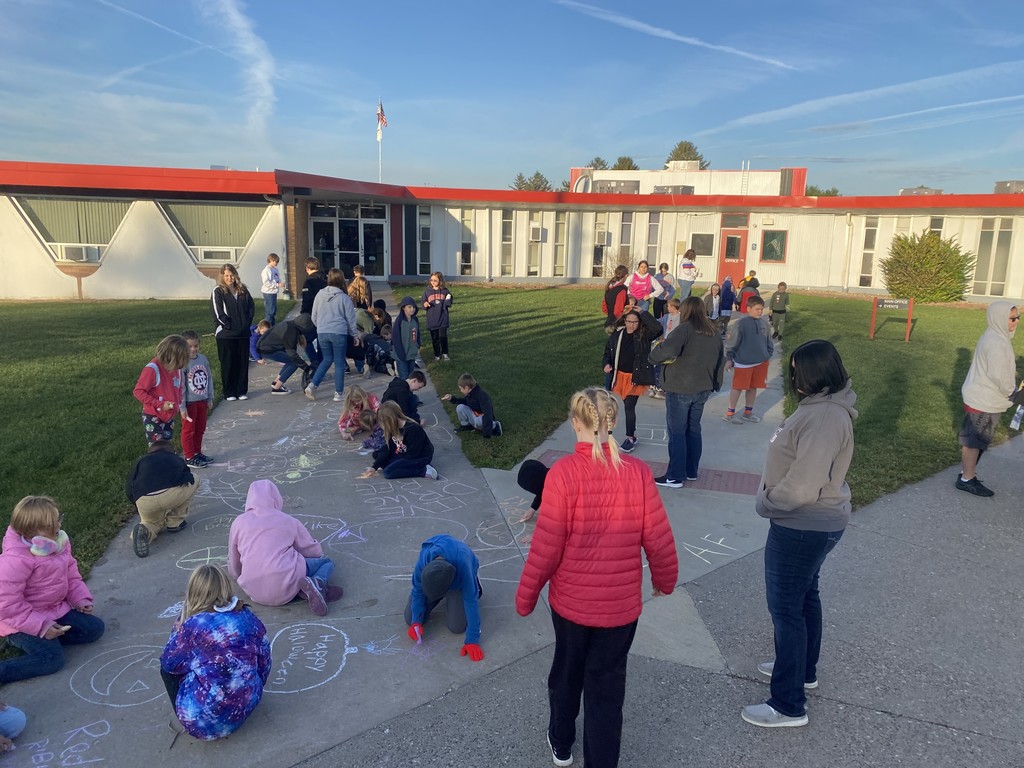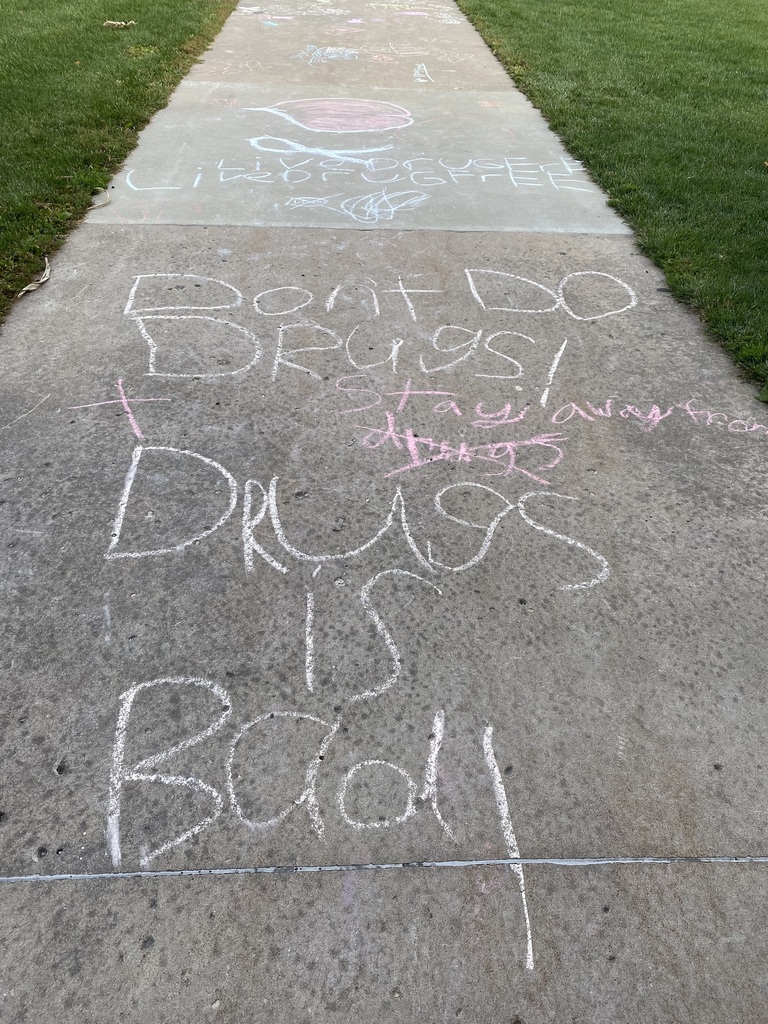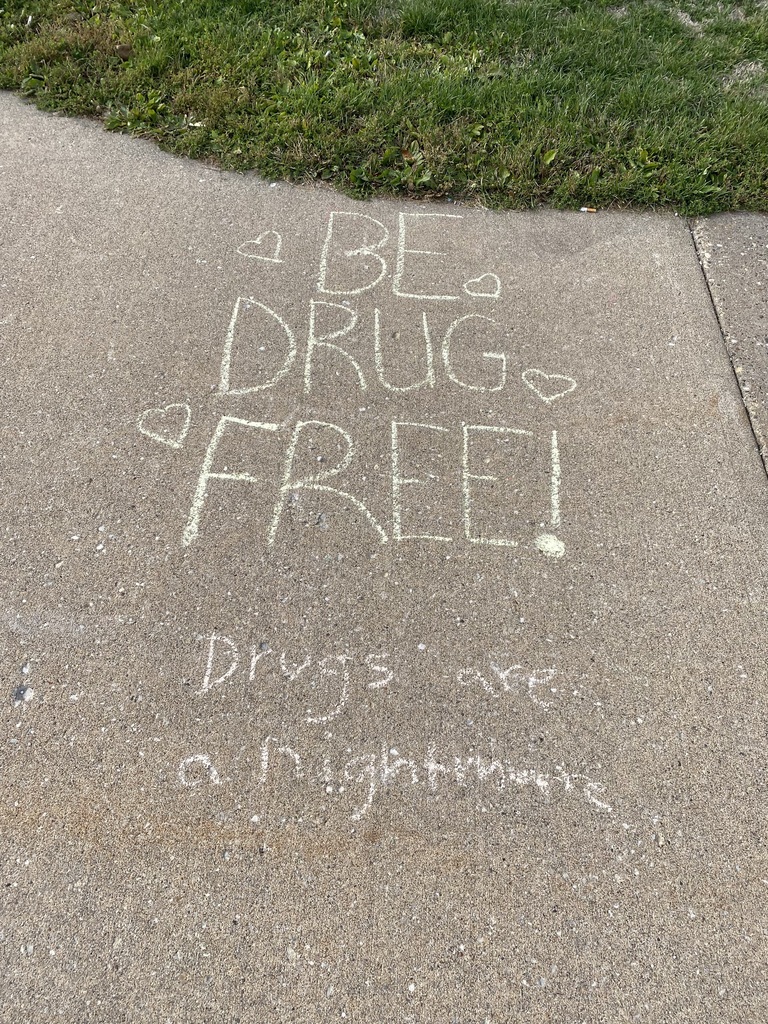 Our staff and students enjoyed a lot of fun, cool activities for "Red Ribbon Week" at NCES. Enjoy these pictures and I will make another post with more Red Ribbon Week pics. Thank you to all of NCES students and staff for their spirit and support to be drug-free and make good choices.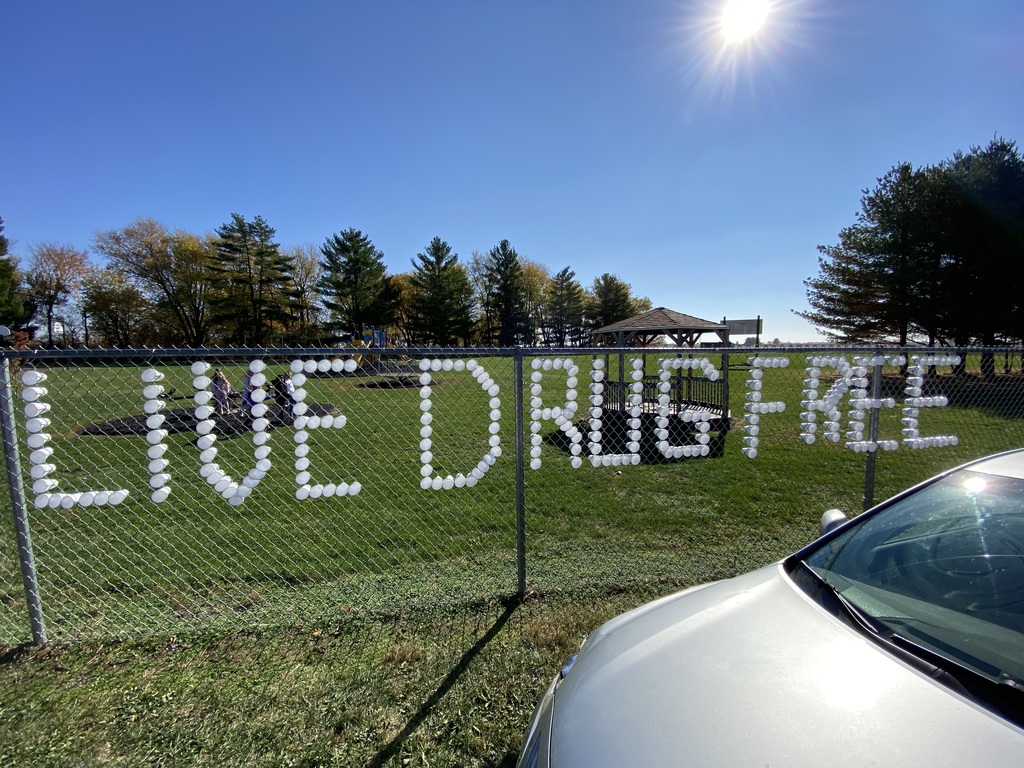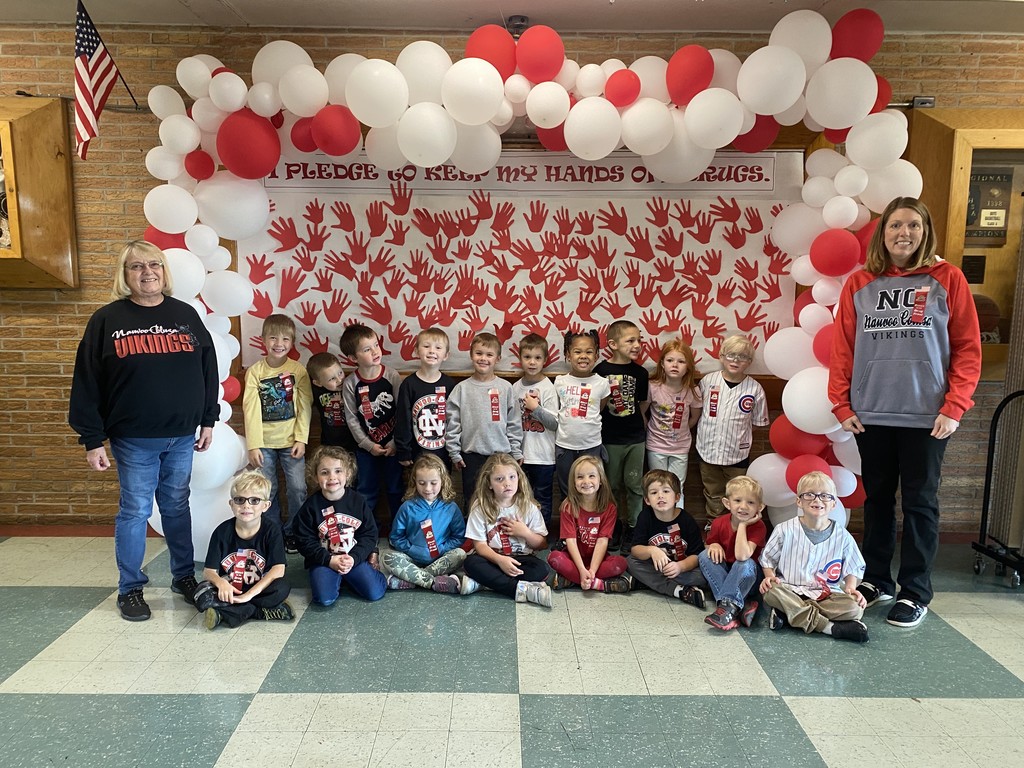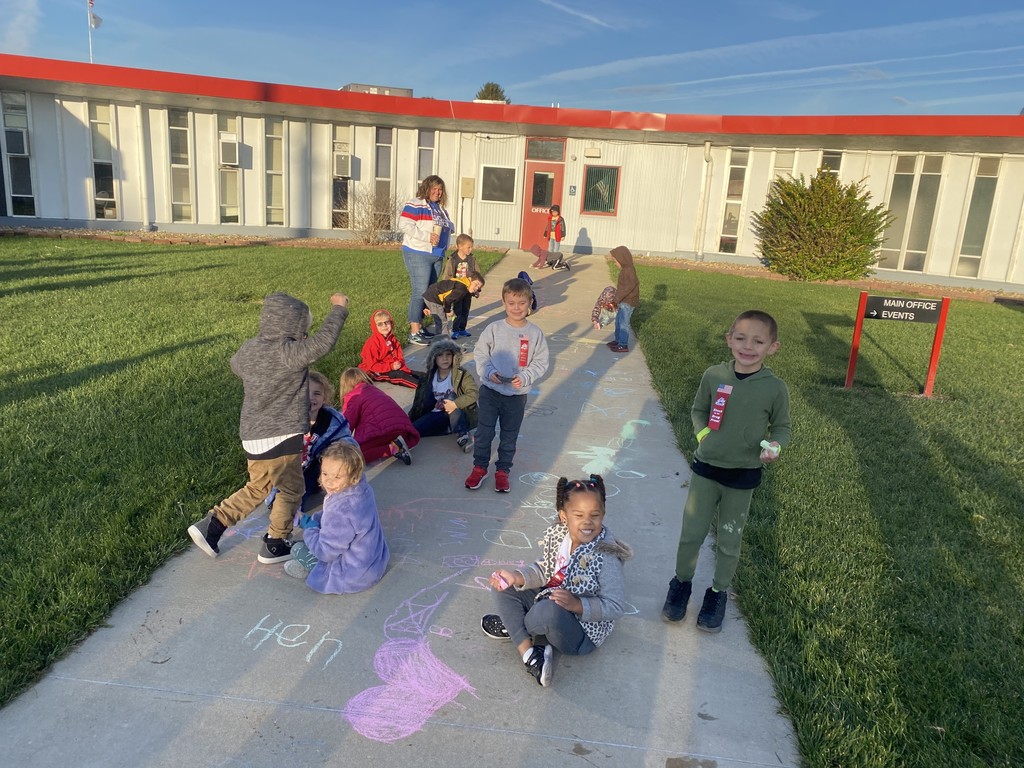 Monday, Halloween day, the students will be participating in a Costume Contest/Parade at 1pm in the Jr. High gym. Parents are invited to come and watch. The students will be given the opportunity to change into their costumes prior to this event, so please don't send your student to school in costume. Thank you for your support and Happy Halloween!

School will be dismissing at 1:30pm tomorrow (10/27) and school will not be in session Friday (10/28) for parent teacher conferences.
It is "Red Ribbon Week" at NCES! Below are the daily themes and dress-up days are listed for the week. This week is sponsored by Jr. High NASA Club. Oct. 24 is "100% Me Drug-free" (Wear RED). Oct. 25 is "It's Cool to be Drug-free" (Wear Sunglasses); Oct. 26 is "Lei off of Drugs" (Wear a lei); Oct. 27 is "Our School Chooses to be Drug-free" (Wear Viking gear, school colors, or favorite team shirt). Special thank you to Mrs. Rose for her work and creativity on the "I Pledge to Keep My Hands Off Drugs" Balloon Arch (see picture) to celebrate Red Ribbon Week. Thank you to everyone for your support for Red Ribbon Week!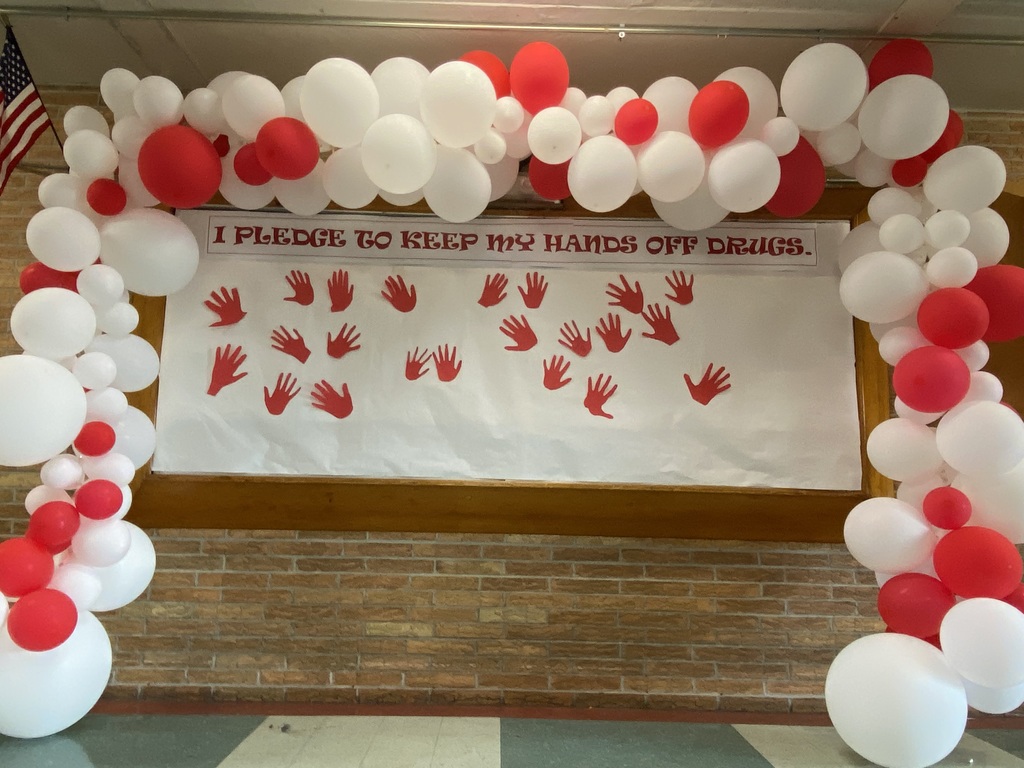 NCES Students and Parents/Guardians, please be aware and plan accordingly for our 1:30 pm Early Dismissal on Oct. 27, 2022, and 4:00-8:00 pm Parent/Teacher Conferences that night. NO SCHOOL on Oct. 28, 2022, so we can host 8:30-11:30 am Parent/Teacher Conferences. We look forward to seeing our parents/guardians at NCES for conferences!

Tomorrow is the deadline to turn in your Donuts with Grownups order forms. Donuts with Grownups is on Friday Oct 21st from 7:30-8:05. $3 per person attending (limited to two grownups per student). We are excited to see you there!

October 24th kicks off red ribbon week. Help us celebrate by dressing up on the appropriate days.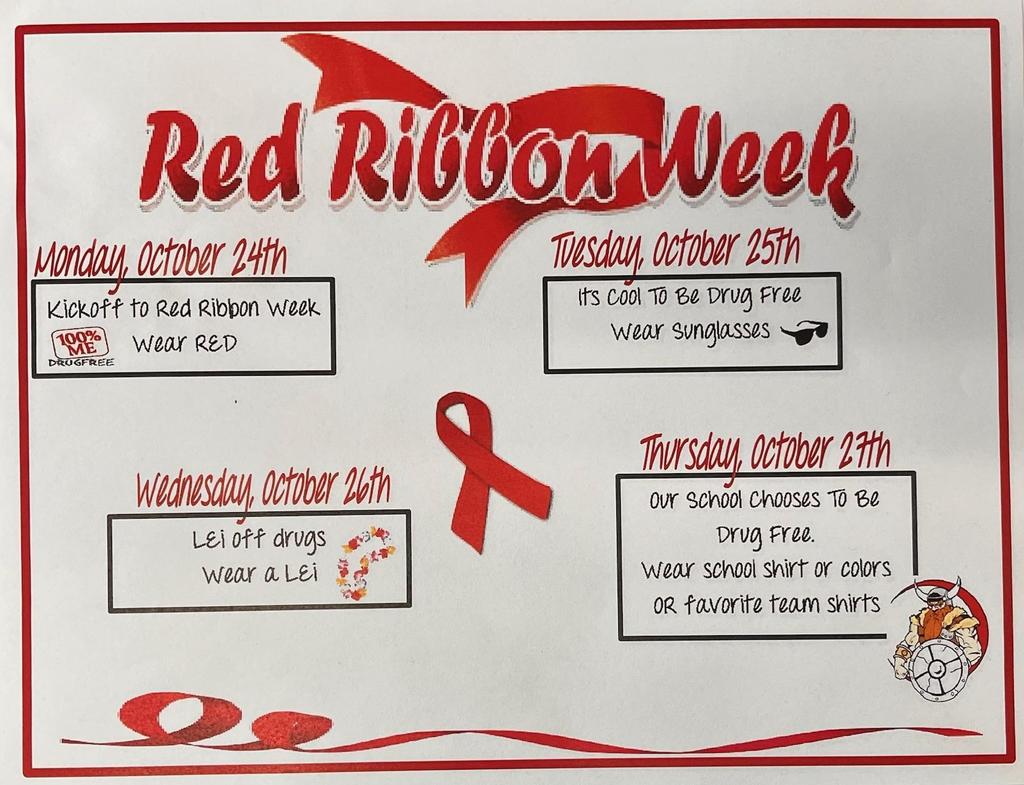 Donuts with a Grownup is coming up on October 21st 7:30am-8:05am. A form has gone home with each student, please return the forms as soon as possible so we can get the donuts ordered.
Hello Nauvoo-Colusa Parents/Guardians and Citizens, If anyone is interested in coaching the 5th/6th Boys Basketball Team this year, please contact Mr. Trevor Knipe for more information by calling (217)-453-2511 or email him at:
principal@stspeterpaul.org
. Thank you for your consideration.
Congrats to our most recent "Reading Counts" award winners! We honored them with certificates from Mrs. Litchfield on 10/12/2022 at Viking Time. Pictured from left to right: Zachary Allen, Craig Bodily, Annabelle Burtalo, Caleb Edwards, Carson Martens, Delaynie Schmitz, Talmage Squire, Loretta Young, Isaac Shurtleff, Colton Schmitz, Grant Squire, Katherine Aitchison, Emma Bodily, Tyson Coulter, Ellie Fink, Aubrey Newlan, Levi Perego, and Charles Shurtleff. Not pictured: Miles Aitchison and Brikelle Grange. Keep reading, growing, and learning, Vikings!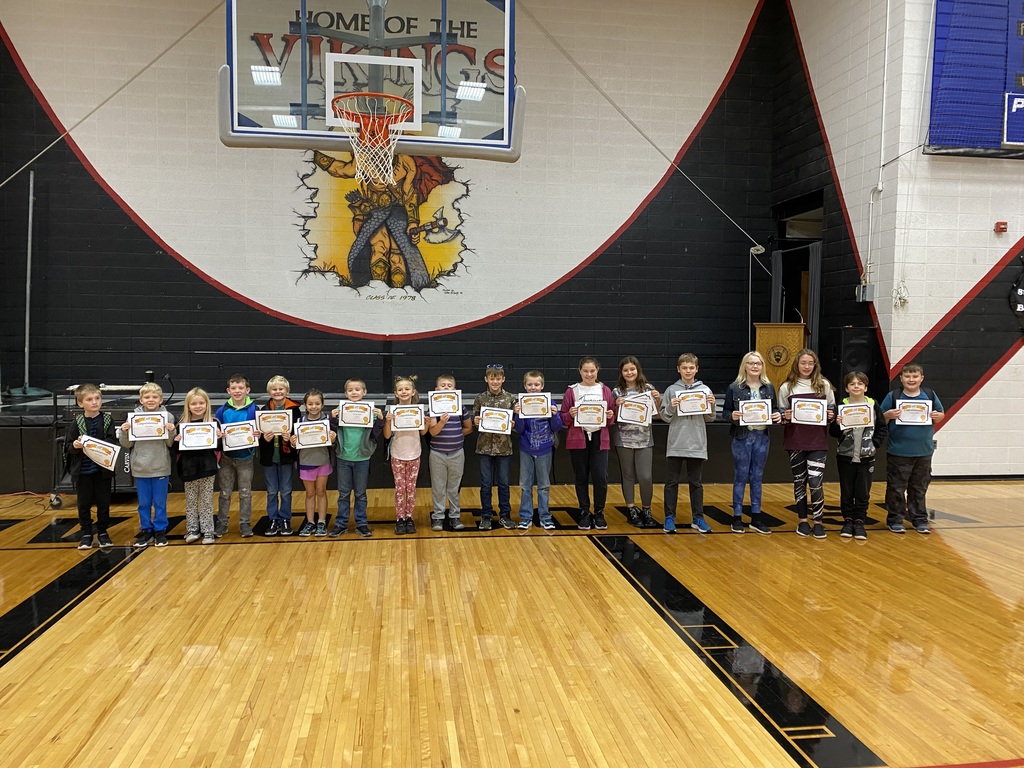 A reminder to all parents and guardians, school will not be in session on Monday due to the holiday.

Picture retakes will be taken on Friday October 14th. You can order online at INTER-STATE.COM/ORDER using the school code 73076TA OR you can print an order form from the documents section on the school website.

Preschool Family Fun Night was a great success. The weather was beautiful, the fishing was so so, the boat ride was soothing and the hot dogs and s'mores cooked over the open fire were scrumptious. On September 8, 2022 our Preschool Families met at the Nauvoo State Park for an evening of fun for our families. It was great to see our families interact with their children and other families. We wish to extend a big thank you to the Nauvoo State Park employees for providing the fishing equipment and an awesome site to fish, a lake for a ride in a boat, and the wood for the fire and many picnic tables. A big thank you also to The Burtalo family who provided boat rides around the lake and the Squire Family –Nauvoo Red Front- for organizing the Weiner Roast. Most of all, we thank our Preschool Parents for the giving of time to their child(ren). Parents are a child's number 1 teacher. Memories created and shared are the best memories ever.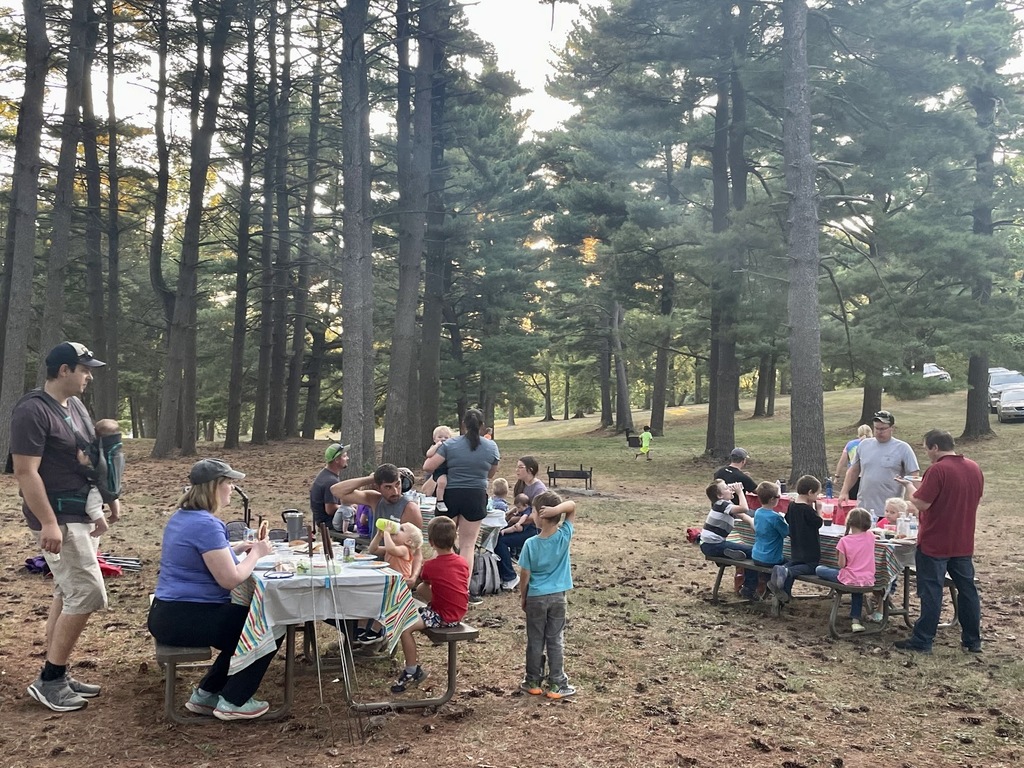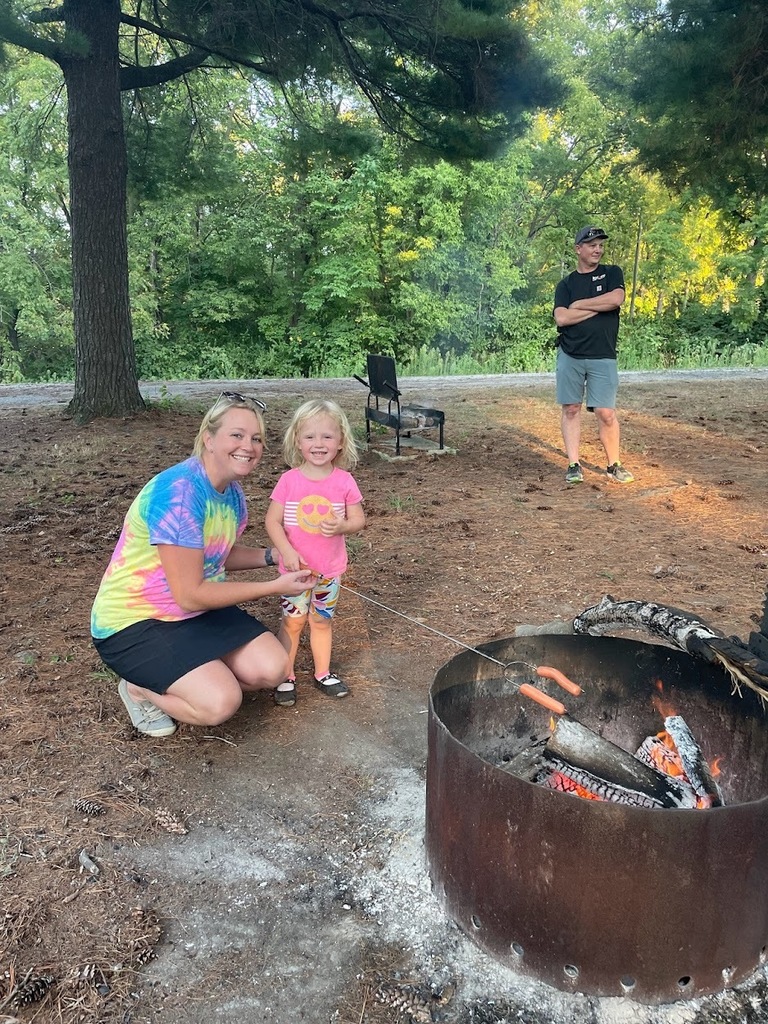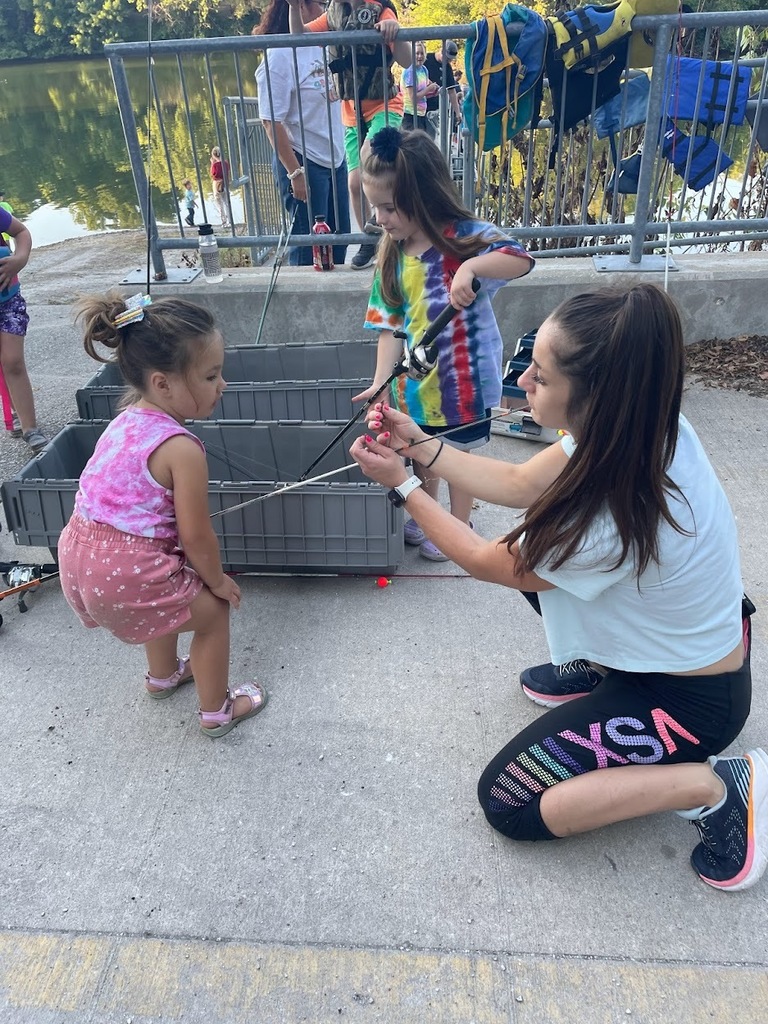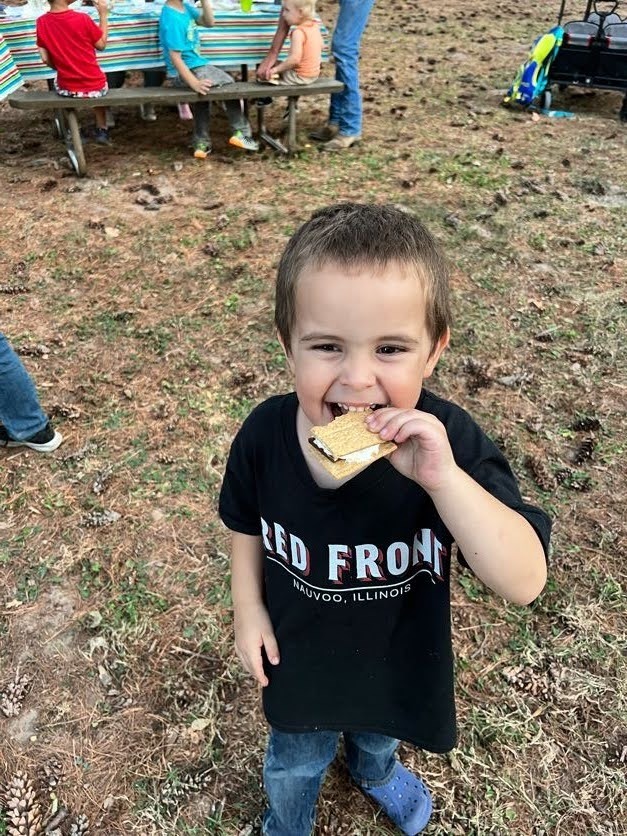 Congratulations to our Sept. 2022 "Viking Pride Award" recipients! These students and staff displayed kindness, respect, and/or support for others. We recognized them with certificates, gifts, and treats on 9/30/2022. Pictured from Left to Right: (Staff) Mrs. Siegfried, Mrs. Fink, Ms. Roch, Ms. Adkisson, Ms. French, Mrs. Rose, Mr. Schneider, Ms. Anozie, (Students) Brooklyn Sullivan, Avery Squire, Cooper Stull, Mackenzie Shaw, Anthony Evans, Tristan Vass, Adley Rose, Paxton Rawlings, Evan Savage. Not pictured: Reese Vass, Mr. Kanauss, Mr. Rhodes. Thank you for showing your Viking Pride! NCES sends a special "Thank You" to our local sponsors who donate gift certificates to support Viking Pride: The Red Front, The Fudge Factory, and Annie's Frozen Custard Shop. Please support them for supporting our students and staff at NCES!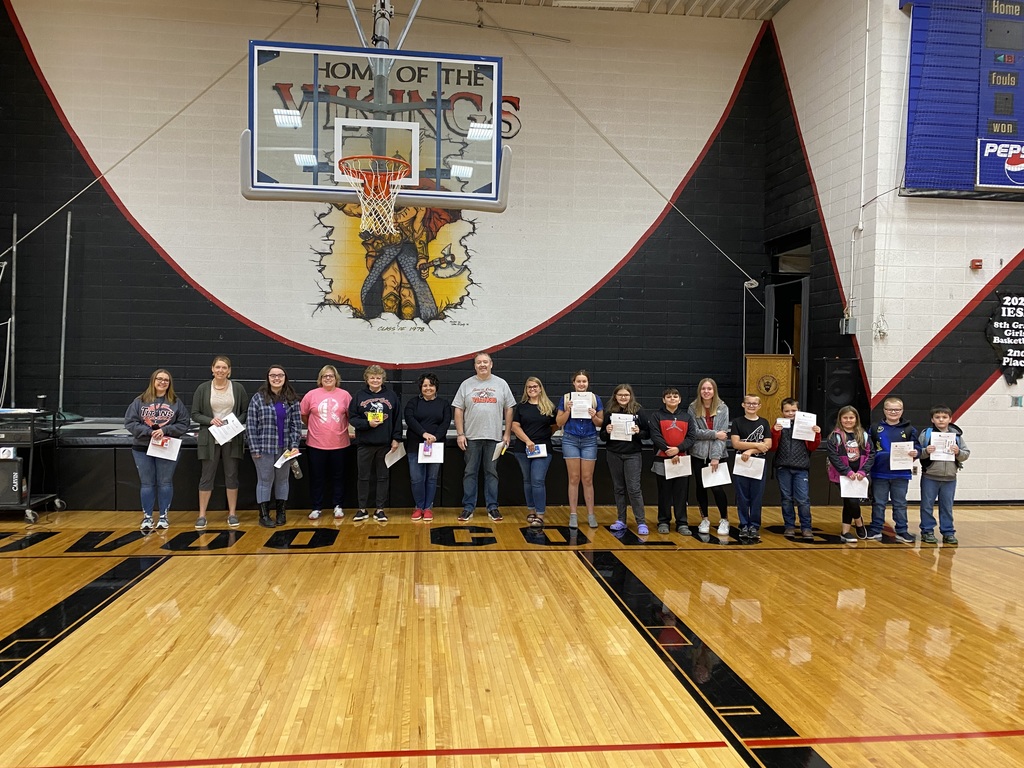 Due to an inventory oversight, the lunch entree for September 30th of a corn dog will be swapped out with next week's entree of chicken nuggets. The rest of the lunch of those two meals are identical. Sorry for any inconvenience.

Don't forget that Friday is pickup day for the school fundraiser items. These items can not be taken on a bus, so please make arrangements to be at the school to pick them up.

The NC Sports Boosters would like to thank the students, parents, staff, community members and local businesses who contributed in any way to our recent hog roast. We had a very successful event, serving around 250 people and raising almost $3500 for our school. Whether you sold tickets, donated a dessert, worked at the event, donated financially or just came and enjoyed an evening with friends, it all added up to a successful night. Thank you to all!